Meet Vickie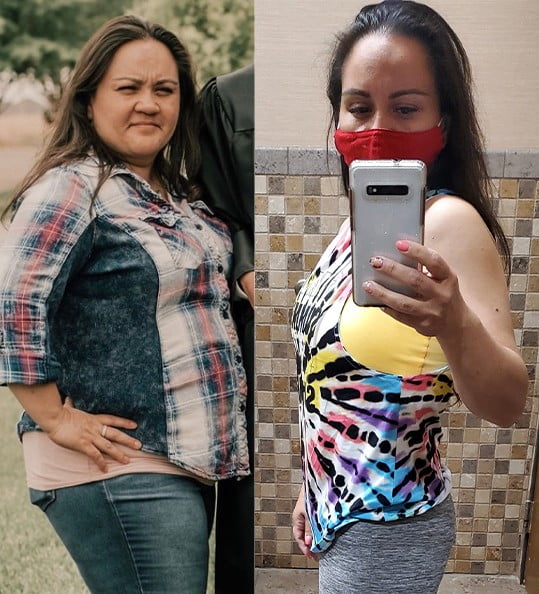 What was life like before bariatric surgery?
Before surgery, I felt very insecure about myself and my body. I never wanted to wear regular clothes other than my work scrubs. My weight limited my time with my husband, kids, and grandkids. I would get frustrated with all my attempts to lose weight only to gain it right back. I suffered from hyperlipidemia and took four medications to manage this, and I was on hypertension medication. I was a ticking time bomb and headed in the path of having cardiovascular disease.
---
If you put off the decision to come in for a long time, why was that? What kept you from booking a consultation?
I researched weight loss surgery for two years because I was afraid to have major surgery, as I had never had any surgeries. I took the leap of faith to send the email for information and was determined to better my health for myself first and my family.
---
What was it like to work with the team, from the start of your journey to today?

I remember sending my email for the consultation and being so nervous about what the outcome would be. Little did I know that this changed my life and my health. My first zoom visit with Dr. Schniederjan was in March 2020. I remember him being so sweet, compassionate, honest, and patient with listening to all my frustrations and my goals with what I wanted in having this surgery. He explained everything in detail and informed me that we would both do this together and that he and his staff would help me in every way possible to help me reach my goal. The appointments and testing in the office went so smoothly even under our covid-19 pandemic, as crazy as it sounds. The front office staff, tech, medical assistants, dieticians, insurance staff, and nurses were amazing and very understanding. Every detail of the preop diet and my surgery date, and post-op diet were clearly explained to me. Dr. Schniederjan explained my options from the sleeve to the duodenal switch procedure that I had done on October 13, 2020. I remember setting my first goal to be met by at least my six-month mark on April 2021.
I was impressed and ecstatic to have met my first goal in my first three months. I have lost a total of 85 pounds from my first initial zoom visit to today, weighing in at 122 pounds. I am 2 pounds from meeting my ultimate weight loss goal, and I am only seven months post-op. I have participated at the gym with workouts and in a 5k run once a month since January 2021, with my 5th run being tomorrow.
My goal is to participate in a 5k run every month for 12 runs this year. This tool is amazing to help anyone in meeting their weight loss goal. As long as you follow the instructions given, anything is possible. I would highly recommend this surgery to anyone struggling with obesity and health issues to better yourself. I have had many friends, family members, and even some of my patients ask me about my weight loss journey, thinking I'm a new nurse due to my body transformation. Some of my cardiologists at my job ask me to share my journey with their patients also.
I now enjoy and love to shop for clothes, which I didn't enjoy before. I am confident in my skin now too. My husband has been the biggest supporter in my weight loss journey as he has seen all of my frustrations and struggles in losing the weight before. My only regret is not having this done sooner.
---
What is your life like now? What's the #1 thing you love being able to do now?
Feeling confident in my skin and body and being able to run a 5k.

---
I am confident in my skin now.

Vickie