Your roadmap to a healthier, more fulfilling life.
In a world filled with conflicting opinions and misinformation about weight loss, it can be hard to know what's truth and what's myth. In Life Change, board-certified bariatric surgeon, Darren Peterson, MD, and expert certified personal trainer, nutritionist, and master health coach, Candy Peterson, CPT, give you the information and direction you need to achieve sustainable weight loss. Life Change is more than just a weight loss book—it's a definitive guide to lasting transformation and an invitation to explore your purpose and identity through God's eyes. Based on the belief that true life change only occurs when we engage our mind, body and spirit, Darren and Candy address each of these factors independently and explore how they work together to shape our journey towards healthier habits.
More Than Just a Weight Loss Book
In these pages, you will:
Discover the truths about calorie-based weight loss models and shed the shame and guilt of past "failed" diet attempts.
Develop a working philosophy about weight loss using the hormonal model.
Gain a deep understanding of how your body functions and what it truly needs, empowering you to make informed choices and establish sustainable habits for holistic well-being.
Realize the undue stigma surrounding bariatric surgery and develop a basic understanding of the four main bariatric procedures, and specifically which ones exploit the hormonal model to your advantage.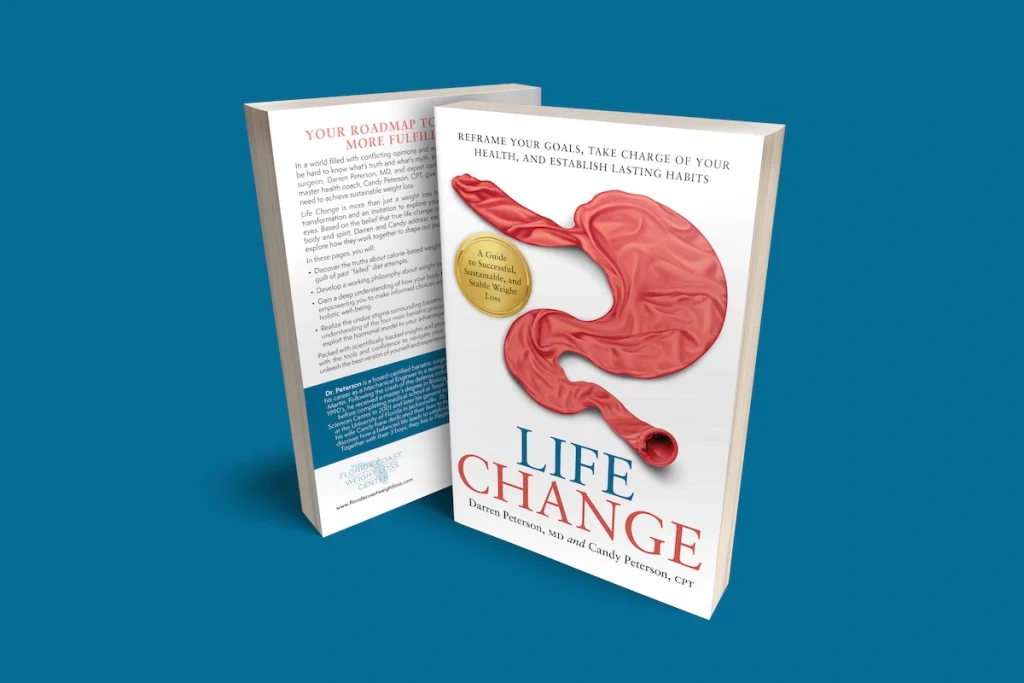 Packed with scientifically backed insights and proven techniques, Life Change equips you with the tools and confidence to navigate your life's journey with purpose. Prepare to unleash the best version of yourself and experience the Life Change you've always desired.
About Dr. Peterson
Dr. Peterson is a board-certified bariatric surgeon who started his career as a Mechanical Engineer in a testing lab at Lockheed Martin. Following the crash of the defense industry in the early 1990's, he received a master's degree in Biology and Chemistry before completing medical school at Texas Tech Health Sciences Center in 2001 and later his general surgery residency at the University of Florida in Jacksonville. Dr. Peterson and his wife Candy have dedicated their lives to helping people discover how a balanced life leads to satisfying weight loss. Together with their three boys, they live in Flagler Beach, FL.
The surgeons at Florida Coast Weight Loss Center have either authored or reviewed and approved this content.