Meet Kaitlin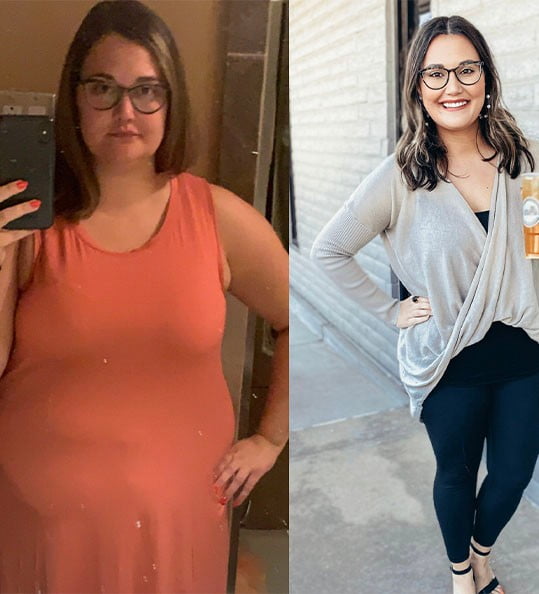 What was life like before bariatric surgery?
Before my weight loss surgery, I had become so ashamed of my body. I had lost all motivation to take care of myself. I barely could make it up to my third-floor apartment, and when I did, I was so winded I had to sit for a good 5 minutes just to catch my breath and let my heart rate come back down. I could literally feel myself wearing my heart out with it pumping in overdrive all the time. I had severe nerve pain in my lower back and hips, and my chiropractor told me if I didn't make a change I was likely going to have to have major surgery to fix my back. That was a big wake-up call and part of the reason I sought out help from the team at Panhandle Weight Loss Center.
---
If you put off the decision to come in for a long time, why was that? What kept you from booking a consultation?
I had been seeing my primary care doctor for about a year discussing weight loss options. I was prescribed and tried several different pill options, which would help me lose about 10 pounds and nothing more, and really affected my emotions and anxiety. They had even prescribed a shot that I had my boyfriend help inject into me, and that made me severely sick. That is when I knew that I needed help outside of pills or shots. I had been trying everything my doctor recommended for over a year with no real results.
---
What was it like to work with the team, from the start of your journey to today?
 I began my journey with PWLC in March of 2020. This is right when the pandemic shut everything down, so my consultations were all over Zoom. From the first meeting with Dr. Bleu, I knew I had come to the right place. The entire team was so understanding and respectful of my thoughts and opinions. They answered the dozens of questions I had at each appointment. The team guided me and truly made me feel like this was the best choice and decision for me. Through every test and obstacle you have to go through to be eligible for surgery, they explained it thoroughly and took away all of my anxieties. On the day of surgery, I finally got to meet Dr. Bleu in person and he came into my hospital room to pray over the day with my boyfriend and me. Since I am religious, this spoke volumes to me. I was blown away by his and his teams' kindness. I am now 7 months post-op (March 2021) and am currently 74 pounds down. I feel like a completely new person! I am so thankful for the PWLC team for helping me achieve this!
---
What is your life like now? What's the #1 thing you love being able to do now?
Life since surgery hasn't all been sunshine and daisies. It is still an extreme learning process. But I am thankful for all of the tools available to me, as well as the continued support from the Team. Now I am a much more confident version of myself. I say "yes" to a lot more things, including trying new healthy meal choices as well as exercising. I actually enjoy moving my body now, because most of the pain is gone. I have also been able to stop taking medication for my heart rate, and anxiety medication. This surgery has literally saved my life. 
---
This surgery has literally saved my life. 

Kaitlin